Saturday 15th of May saw the 75th running of the Ken Orchard Handicap race at Albert Park Lake. The morning suggested that we were about to experience our first true cross country race of the season, with plenty of wind, rain, and even some hail, but by the time we were due to race the weather gods took some pity and the sun came out.
Unfortunately, the wind stuck around in a big way! The east side of the lake felt like you were running against a wall. A new start/finish line location changed the course to 300 metres plus 2 laps of the lake and then finished with a final 300 metres to make up the 10km course.
The threatening weather in the morning didn't stop a good turnout of runners and great runs were had.
Ben Haesler (35:00) and Aidan Jackson (35:21) finished with the second and third fastest times respectively; however, the Orchard is handicap event so top OX honours go to Jonah Gannon (46:26). Jonah came second in the handicap, running a 7min 10km personal best (and a 5km PB)–incredible running by Jonah and a great reflection of consistent training post-injury. 'Mr PB' himself, Jeremy Spradbery (42:06), ran slightly subdued due to a bike fall earlier in the week but managed 4th place in the handicap.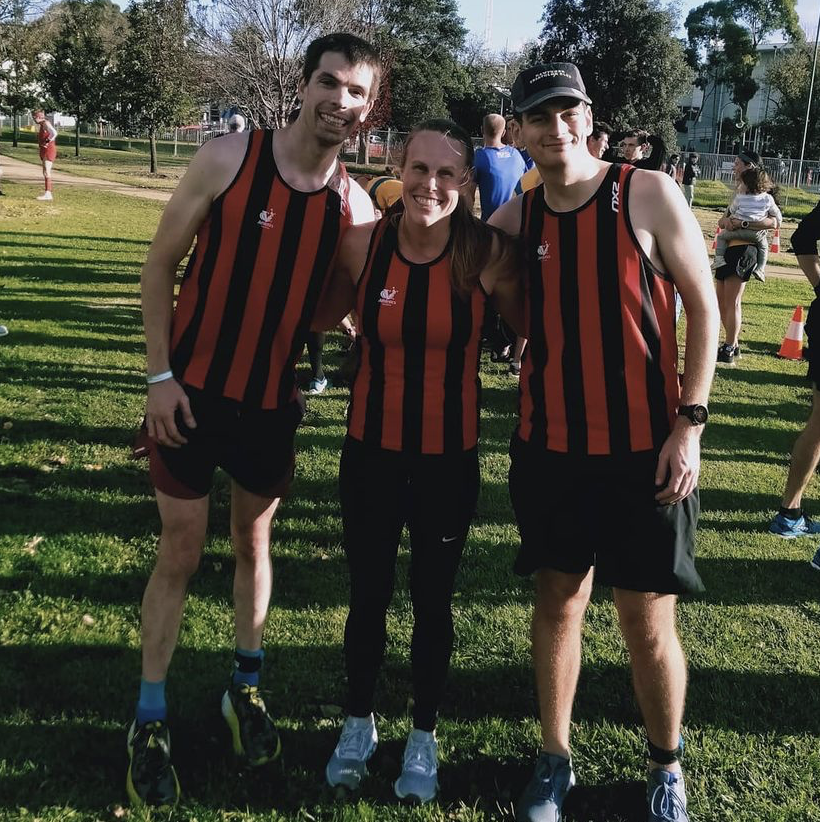 Other top runs were PB's by Jules Fleurus (37:42) and Nik Matthews (44:27)–in those conditions it's likely these times won't stay PB's for long! Emme Richardson, who is usually a summer runner, had a great run in what is a really long way for a track athlete! It's great having Emme out there regularly for the winter season, as it was to have Matt Hodder's return to the red and black.
Tough day at the office for Anthony Meek, who was unable to run to his handicap and didn't even come close to finishing near his father Bob. Still good to have Ant out there returning from injury! Another family duo were Melissa and Sara Stebbins who both hit their goal times in the trying conditions. Full results are available here.
Next week we have AV 8k at Lardner Park followed by what many would consider the high point on the Cross Country calendar, the Dyson Relay! Held at the iconic Tan Track on the 29th of May, clear the diary: it's not to be missed!
BEP's (Bob's Excitement Points)
10 points: Jonah Gannon. Podium Finish, 10km PB, 5km PB – need I say more?
5 points: Margaret Fitzgerald running on her birthday.
3 points: Pablo Campillos, who messed up the start trying to cut short the run by 300mts.
1 point: Geoff Stebbins stepping in as official photographer.
Hannah Cossins
OXAC Women's Captain