Every year members of Old Xaverians' Athletic Club, friends, and family ditch the Lycra and ponytails and glam up for our awards evening. Missing the 2020 annual dinner meant that this year awards were given for the 2019 Winter Cross Country season and the 19/20 and 20/21 Summer seasons.
This year's dinner was held in Kew and expertly planned by Summer Women's Captain Monica Clarke, and while a slightly smaller number attended due to Covid restrictions, this did not impact the good night had by all.
We were fortunate to welcome past club runner Rene Dupuche to the dinner. Rene made a lovely toast to the club and gave us insight into the great history of the club.
Winter Captains Hannah Cossins and Aidan Jackson took to the mic for a season recap and winter award winners. And the winners are…
Jack Tutton Trophy, Best Male Winter Athlete
3rd Brad Johnson, 2nd Jason Paisley
Winner: David McNeill
Dupuche Trophy, Best Female Winter Athlete
3rd Fleur Shaw-Jones, 2nd Julie Pearson (nee Manning)
Winner: Hannah Cossins
Overage 50+
Winner: Darren Templeton who took out the Champion Athlete in the 50 plus male category across the whole Athletics Victoria winter competition.
Bruce Davie also received an award for his efforts in the 55+ age category, where he was 3rd among AV runners.
Summer Captains Monica Clarke and Ed Durrand-Kennedy then took centre stage to recap 2 summer seasons and respective awards…
Stuart Methven Trophy, Best Male Summer Athlete
2019/20 Season
3rd Carlo Manolitsas, 2nd Harry Mezger
Winner: Matthew Clarke
2020/21 Season
3rd Angus Dalton, 2nd Nelson Grey
Winner:  David McNeill 
(Dave's season continues to astound with yet another PB and Olympic Qualifier)
Best Female T&F athlete
2019/20
3rd Erin Garbler, 2nd Bridget Neideck
Winner: Grace Goldsworthy
2020/21
3rd Savannah Noack, 2nd Olivia Yacono
Winner: Erin Garbler
OXA Trophy, Best Junior Summer Athlete
2019/20
Male 3rd Benjamin Sherman, 2nd Angus Dalton
Winner: Brodie Hicks
Female 3rd Sophie Hughes, 2nd Natasha Woods
Winner: Olivia Yacono
2020/21
Male 3rd Cameron Marshall, 2nd Joshua Augustinus
Winner: Brodie Hicks
Female 3rd Clara Campillos, 2nd Annabel Colman
Winner: Charlotte Hoskins
Last and by no means least was the booming voice of Club President Christopher Worsnop to present the whole club awards.
Eldon Hogan Trophy for Best Performance by an OXAC athlete in the past year (anywhere/ any event)
Winner: David McNeill
Chris Van Ashe Trophy for Persistence in Distance Running
Winner: David Martini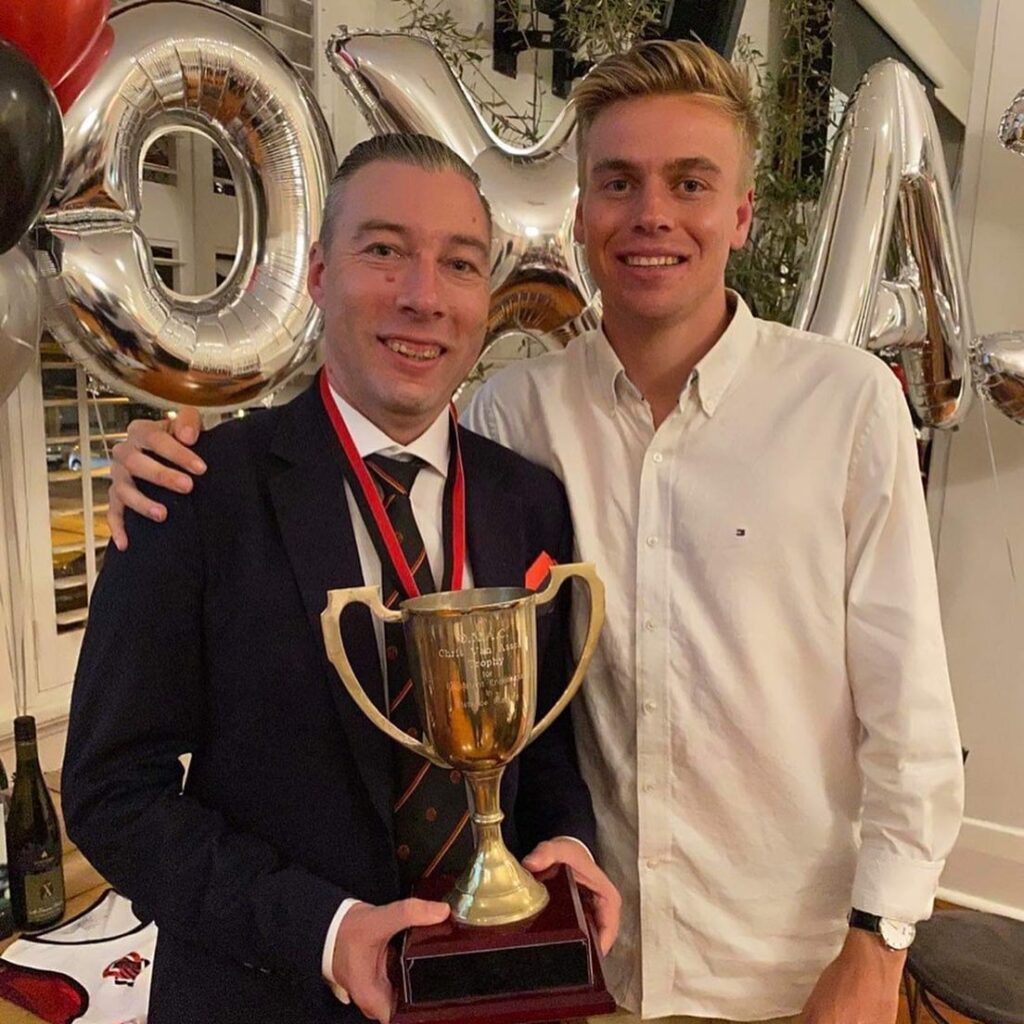 Sir Lewis Burne award for Praiseworthy contribution/participation
Winner: Susan Hinkfuss
John Cooke Trophy for Overall contribution to OXAC (can only be received once by an individual)
Winner: Richard Dickman
All winners had the added of excitement of being awarded the above by Stewart McSweyn, current Australian record holder at 1500m.
No one will deny that the dinner highlight was a Q&A between Old Xavierians' very own champion Dave McNeill and Stew.
A few things we learnt from Stewart:
Grew up on King Island, has a twin brother and went to boarding school.
Favorite café is Tusk. His order, a flat white and poached eggs with avocado. Very Melbourne of him.
Is a big fan of Formula 1 racing. He must love all things fast!
Doesn't get bogged down in data. Doesn't use Strava, track his km's or compare his training to others. Prefers instead to run on feel and get to the start line without knowing the training of his competition.
Was never the best junior runner and is glad he didn't give it away because of that (so are we). He highlighted the importance of persistence and consistency with distance running. Very valuable to hear particularly for our junior athletes.
He provided some guidance for us when racing at the Tan Track for the Dyson Relay in a couple of weeks. When running the Tan, attack the hill because it's downhill to get home, so you know you'll make it (…not sure if that's how it works for us mere mortals!)
What I loved most about Stew was how generous he was with his time. He had SO many photos, was asked many questions and stuck around for a chat afterwards. He will most certainly have all OXAC supporting and cheering wildly at their TV's when he competes at the Tokyo Olympics later this year. Good Luck Stew!!
Special thanks must also go to Dave McNeill, who as a friend of Stewart was able to ask the right questions to give us incredible insight to life as an elite athlete and a bit of the inside of Stew's head.
Until next years dinner, it's back to sweaty running gear and pony tails, but feeling inspired by our own athletes and those going to the Olympics. What a great sport we are part of.
Hannah Cossins
OXAC Women's Winter Captain