Race Report: AV Round 2, Lardner Park, Warragul, 8km.
The skies were blue and the weather generally perfect for the fifteen Old Xav's who made the trek to Warragul, for Round 2 of the AV Season.  A carload of five was generously driven by club champ Margaret, with the others separately arriving in good time – except for Harry.  As our nine men made their way to the start, we were all looking out anxiously for Harry, as we needed ten men to fill both our Div 3 and 4 teams.  With the gun about to go, we were relieved to see Harry striding towards the line (accompanied by his mum and Cam's mum who were rapidly getting his bibs pinned on).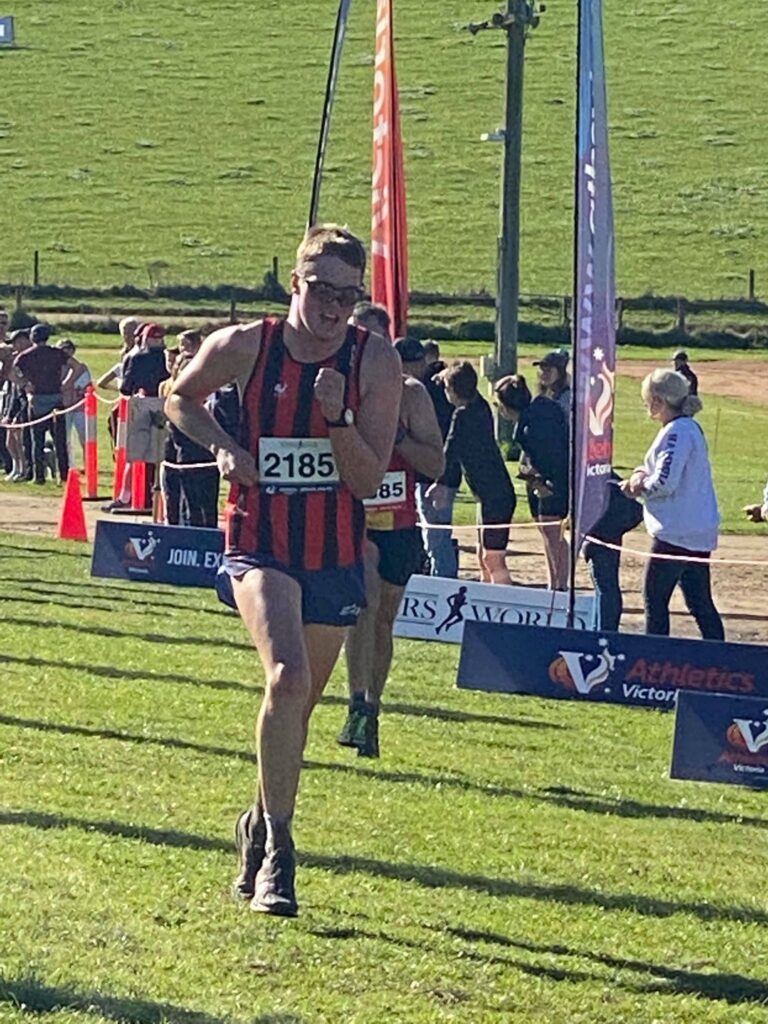 AV hasn't used the Lardner Park course for several years, but those of us who'd been there before were soon reminded of the challenge of the multiple hills, the enormous cow-pats (which could swallow whole suburbs), the fence jump (which all but brought down Dave and Charlotte) and the multiple creek crossings (at which Charlotte and Bob had tumbles, and several others almost lost shoes in the mud). Obviously I'd highly recommend it to anyone who missed out this year – it's one of the truest cross-countries on the calendar.
Post-race, all those under 30 went for lengthy cool-downs, while the rest of us hobbled about moaning (don't tell the coach). Those who stayed for a debrief afterwards were cheered by an afternoon tea of pikelets, granola slice and jelly snakes. You should have been there.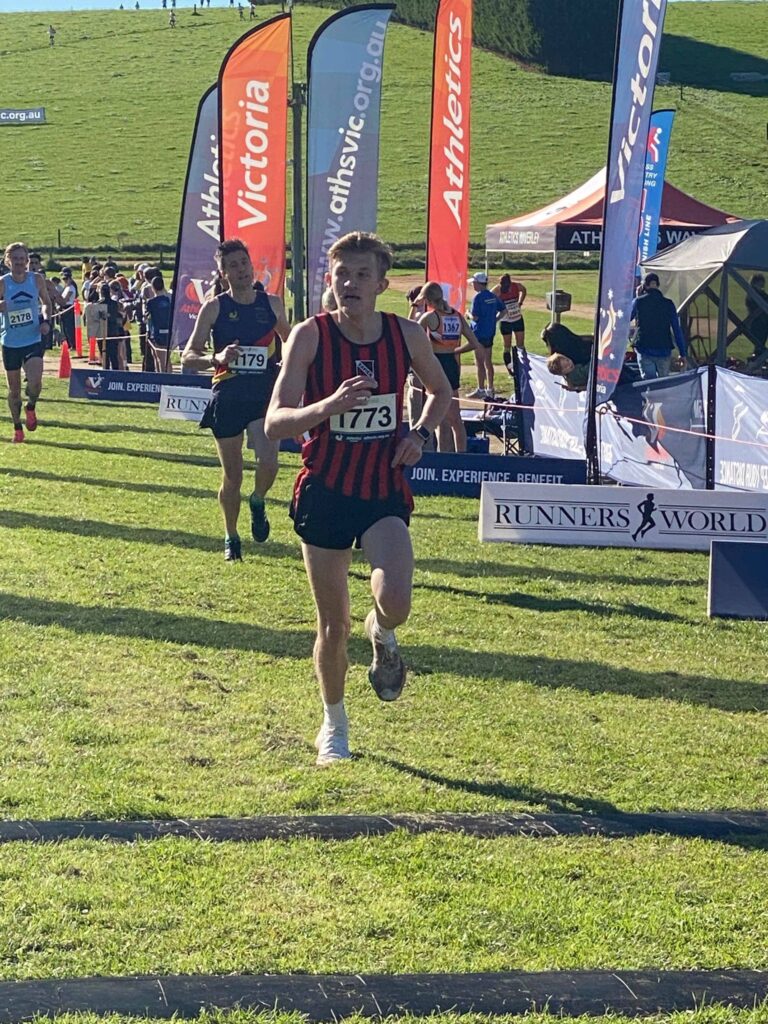 As to the running – the men's young guns: Ben, Josh, Harry and Cam all ran great races, as did older gun Pab who rounded off the Div 3 team.  The seasoned club runners: Dave, Bob, Pierre, Alex and Richard also had solid runs to get us some Div 4 points.  Team finishing positions are provisional at the time of writing, but they were pretty good in the circumstances.  Our Premier Division women's team was led by Charlotte Hoskins with her usual top performance, followed by Annabelle, Margaret, Georgia and Clara.  Those of us cheering near the finish were particularly impressed by the amazing sprint finishes of Annabelle and Clara, who picked up some valuable finishing points in the home straight.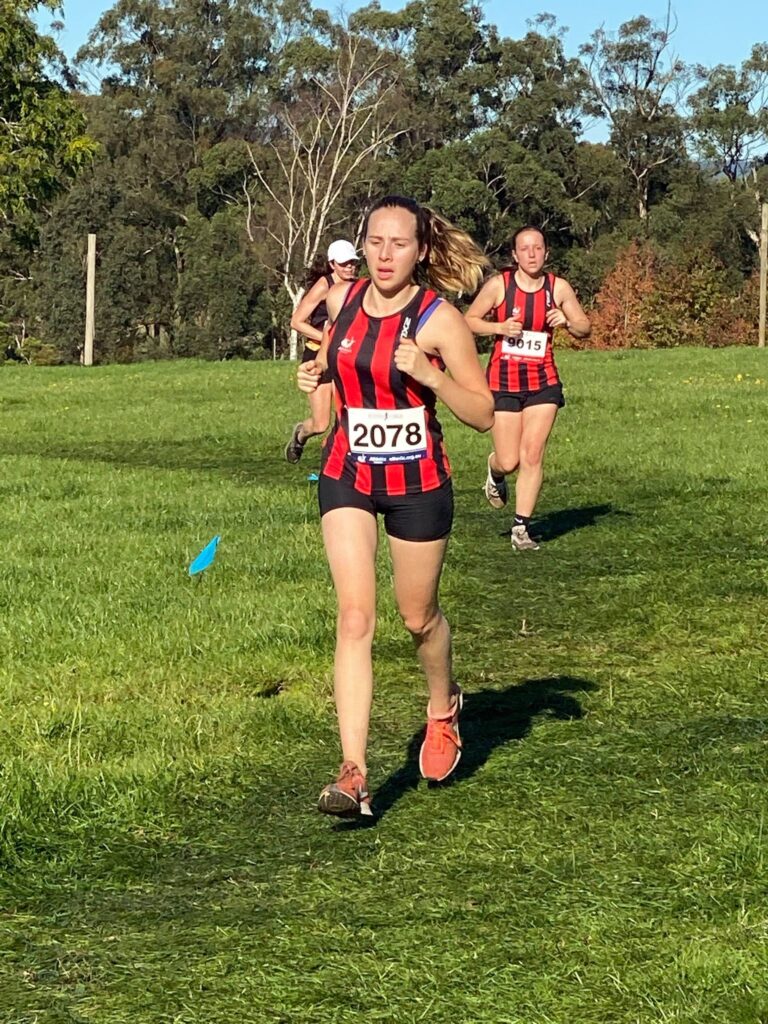 For those wanting to see times (and remember this is one of the toughest courses going around), here they are: (with top 20 age-bracket finishes highlighted)
Div 3: Ben Haseler = 29:41, Josh Macken = 30:00, Cameron Marshall = 31:22, Harry Mezger = 33:03, Pablo Campillos = 34:04 (12th M50-54)
Div 4: Dave Martini = 35:18, Bob Meek = 37:33 (9th M60-99), Pierre Guillon = approx. 38:30 (timing chip issue), Alex O'Callaghan = 40:25, Richard Dickman = 42:36 (20th M60-99)
Women's Premier Division: Charlotte Hoskins = 34:10, Annabelle Colman = 38:19, Margaret Fitzgerald = 40:34 (1st W60-99), Georgia Powning = 43:03, Clara Campillos = 43:49
Full results are available at AV's Results Hub.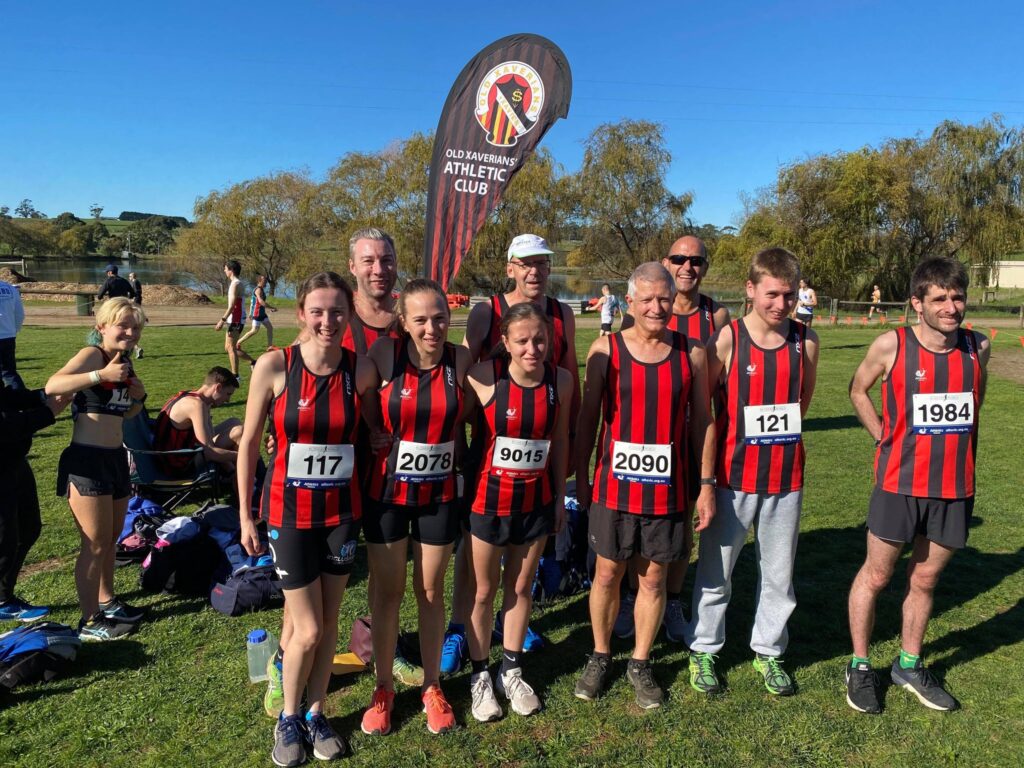 And more importantly, Bob's Excitement Points for the round:
10 Margaret Fitzgerald for her state-championship-level performance
8 Harry Mezger – for starting the race while still getting his bibs pinned on
6 Charlotte Hoskins – for ending up as our most mud-covered team-member (and being fastest)
4 Josh, Harry, Cam, Charlotte, Anabelle, Georgia and Clara – for all running out of their age divisions so that they could contribute to our open team points.
2 Georgia Powning – for also running despite having a sore shoulder from a bike fall during the week
Bob Meek
OXAC Stalwart and BEP Creator