AV 10km, Albert Park
Sunday August 7, 2022
Old Xaverians turned up at Albert Park and showed that smashing a PB can reach the depth and breadth and height of the club's membership, that no achievement was out of sight for the ends of a red and black runner and the ideal 10k race (with profuse apologies to the Bard).
Melbourne turned on picture-perfect conditions for a winter's race, bright skies and a cool calm greeted participants more used to the infamously blustery Albert Park. With over 700 competitors turning out early on a Sunday morning, getting a decent park (and a ticket in time!) were at a premium.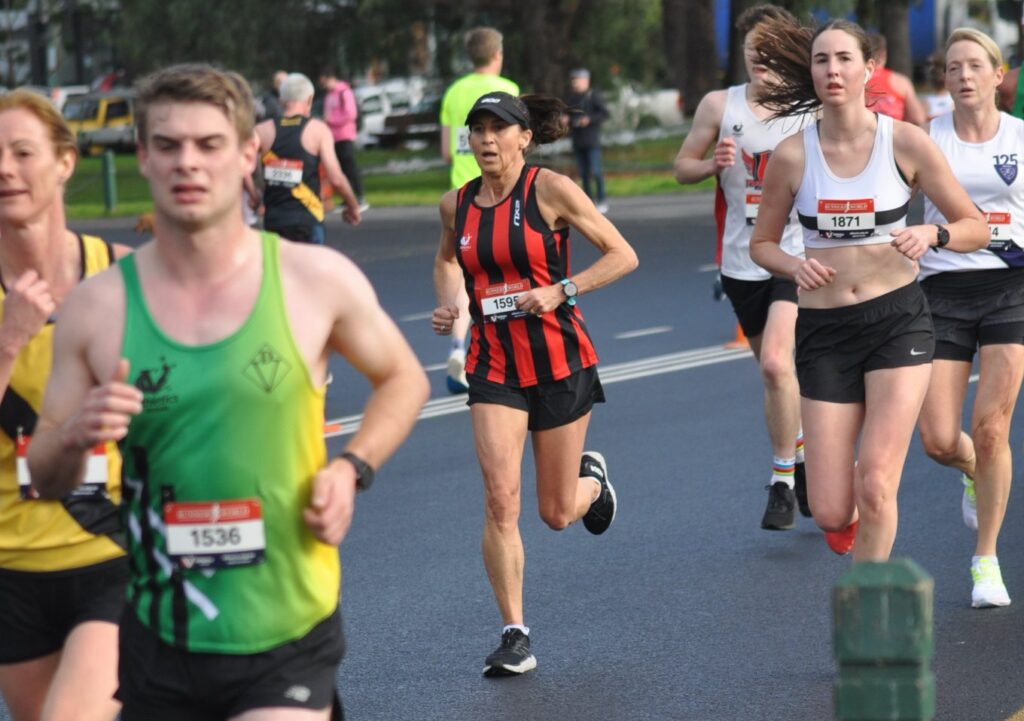 Junior runners were the first to tackle a 3km route, with our very own Max Sukdara (13:06) finishing fast with a highly credible 10th in the boys U14 race. Christopher Worsnop and his grandson Nathan (6 years old) did the family 3 km together before Christopher then headed back to the start to line up for the 10 km.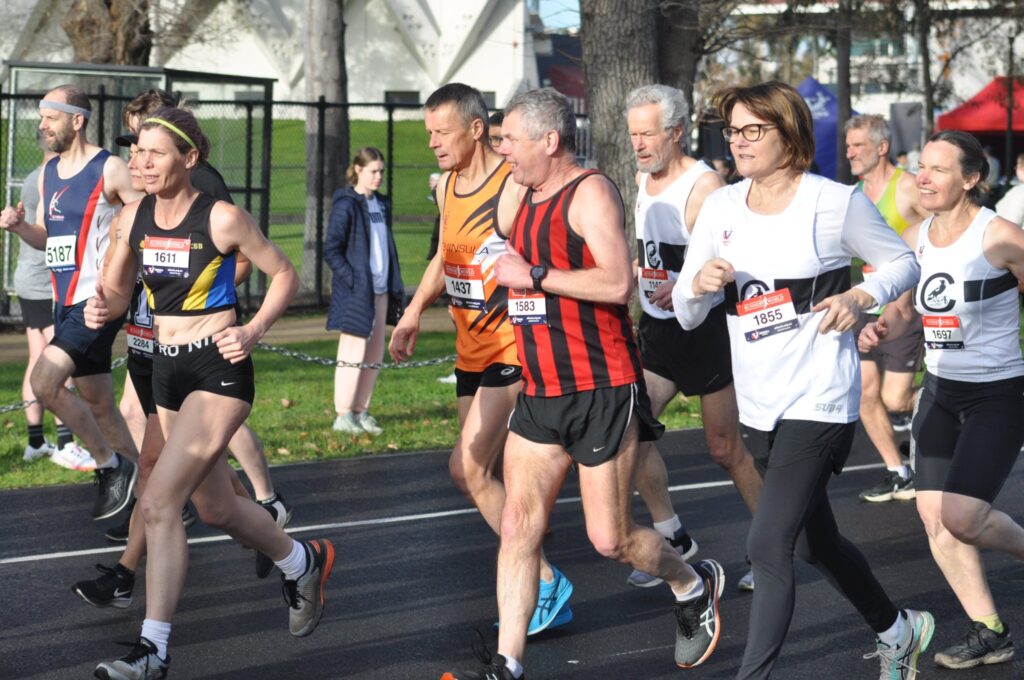 As 9 o'clock approached, the large remaining field – Men's U18, Men and Women's U20 and Open and Masters categories – gathered at the starting line for what would be a two lap out and back from Lakeside Stadium to Junction Oval on Lakeside Drive, with a final 300m finish inside Victoria's premier athletics arena.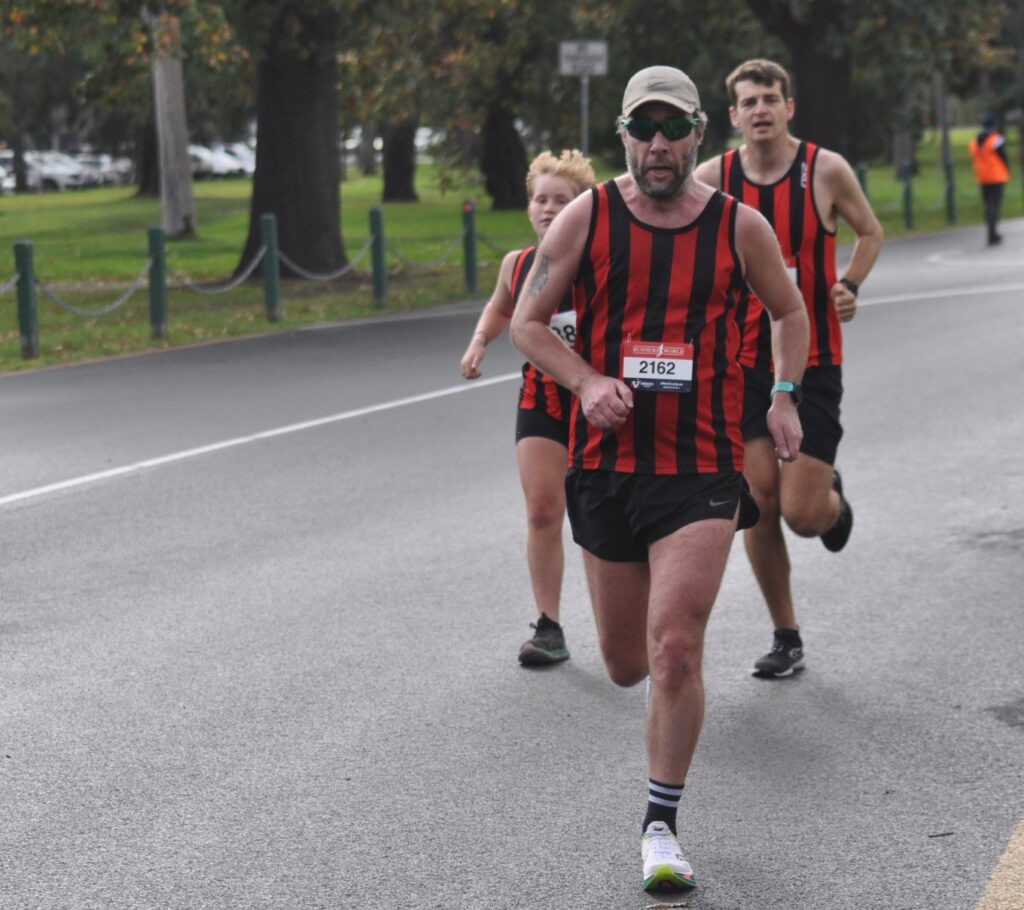 With the starter's gun fired, the PB's began to fall. Superbly assisted by Tim McNeill (38:39), and coming in 6th in the Women's U20 category, Annabelle Colman (38:32) crushed her best by at least a couple of minutes. Also smashing her former finest was Susan Hinckfuss (41:21), who in doing so came 3rd in the W45+. Not far behind Sue in the W45+ was 7th placed Di Guiney (42:47) who registered a strong PB in the process. And rounding out our impressive W45+ result was Kim Drever's 10km best (56:27, 14th), which helped our W40+ team finish in 6th place overall.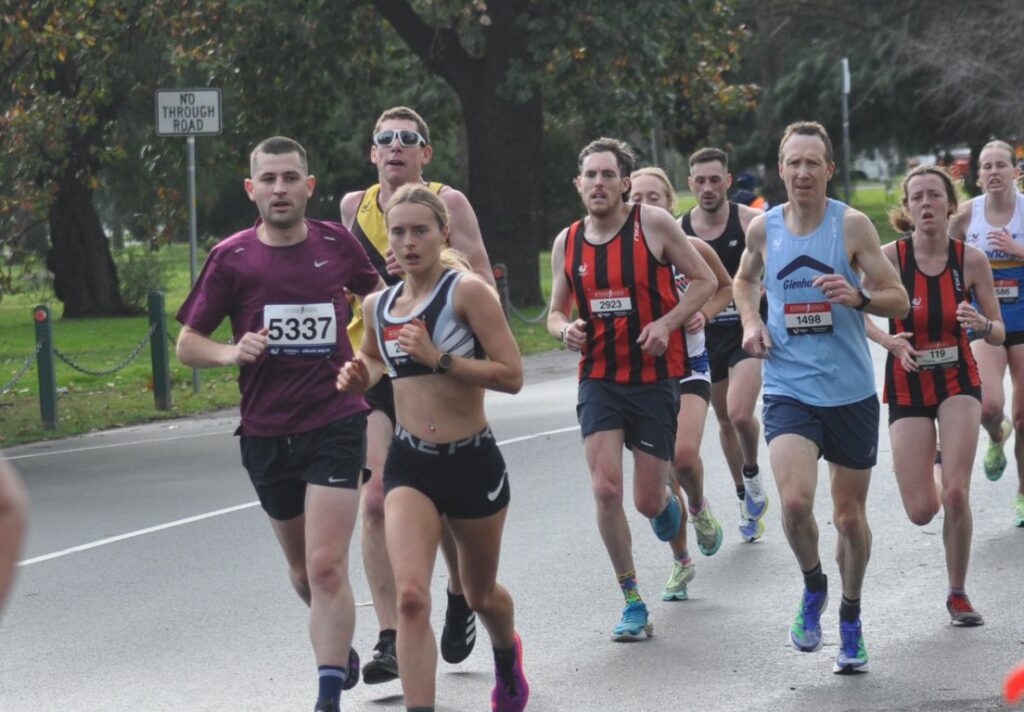 The consistency of Margaret Fitzgerald (47:02) shone through once more, seeing her finish 5th in the W55+, a stellar performance. Certainly not least was our fastest female in the Women's Open, Sophie Fitt (36:59), who finished 19th in a large field of almost 170 runners.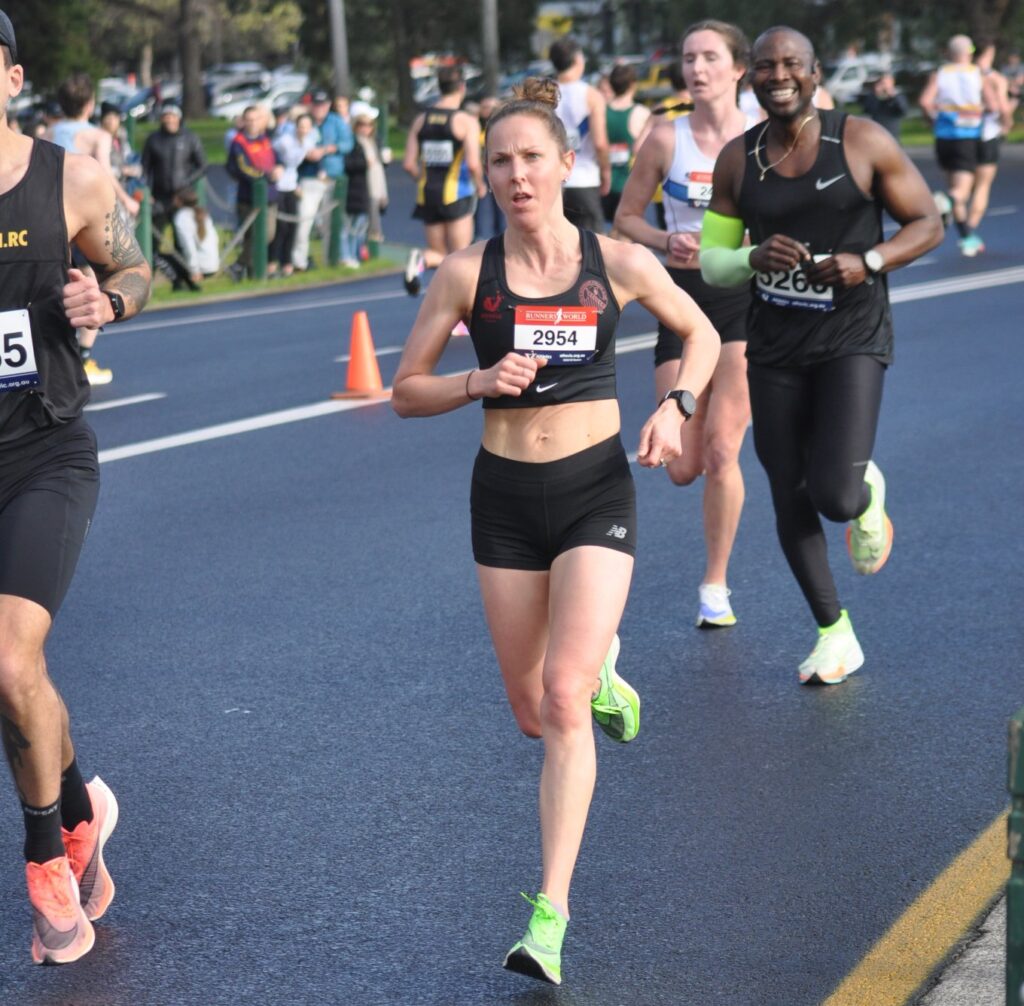 Personal bests continued to fall in the Men's competition. Ben Haseler (33:18), who had his heel clipped soon after start which resulted in an embrace of the asphalt, still managed to turn out his best effort across 10km. Jonah Gannon (42:53), paced to perfection by Dave Martini (42:54) as well as our visiting Columbia University resident Charlotte Hoskins (42:52), annihilated his 10km PB by almost 3 minutes, with a stomping 5km best (20:42) thrown in to boot. Lachlan Gordon (40:51), finishing 13th in the Men's U20 league, also recorded his best time over 10km.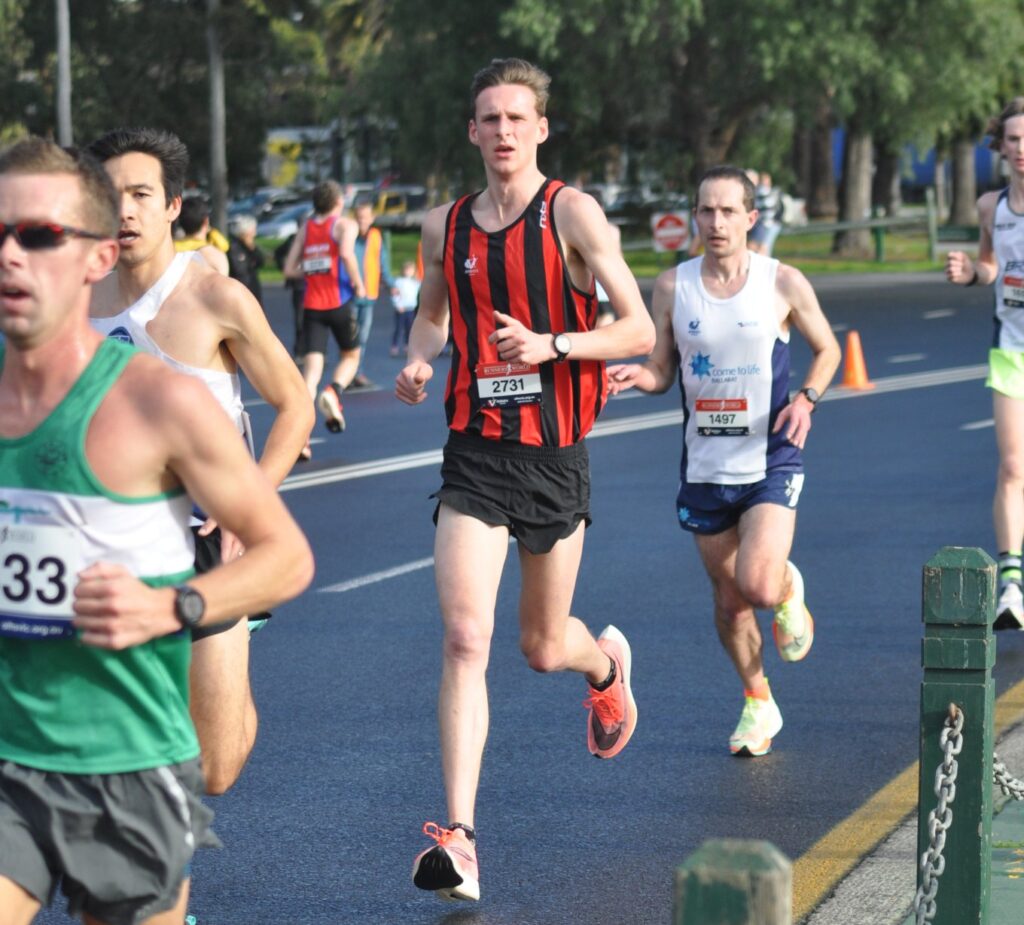 In the M50+ competition, our Old Xavs team was brilliantly led by the finally recovered and fast-finishing Bruce Davie (38:13), which saw him also record a 5th placed M55+ finish. A 10th M50+ placing saw Pablo Campillos (38:16) rout his former PB by just over a minute, while the always impressive Alan Colman (39:06), 18th in the M50+, helped our M50+ team finish 4th overall.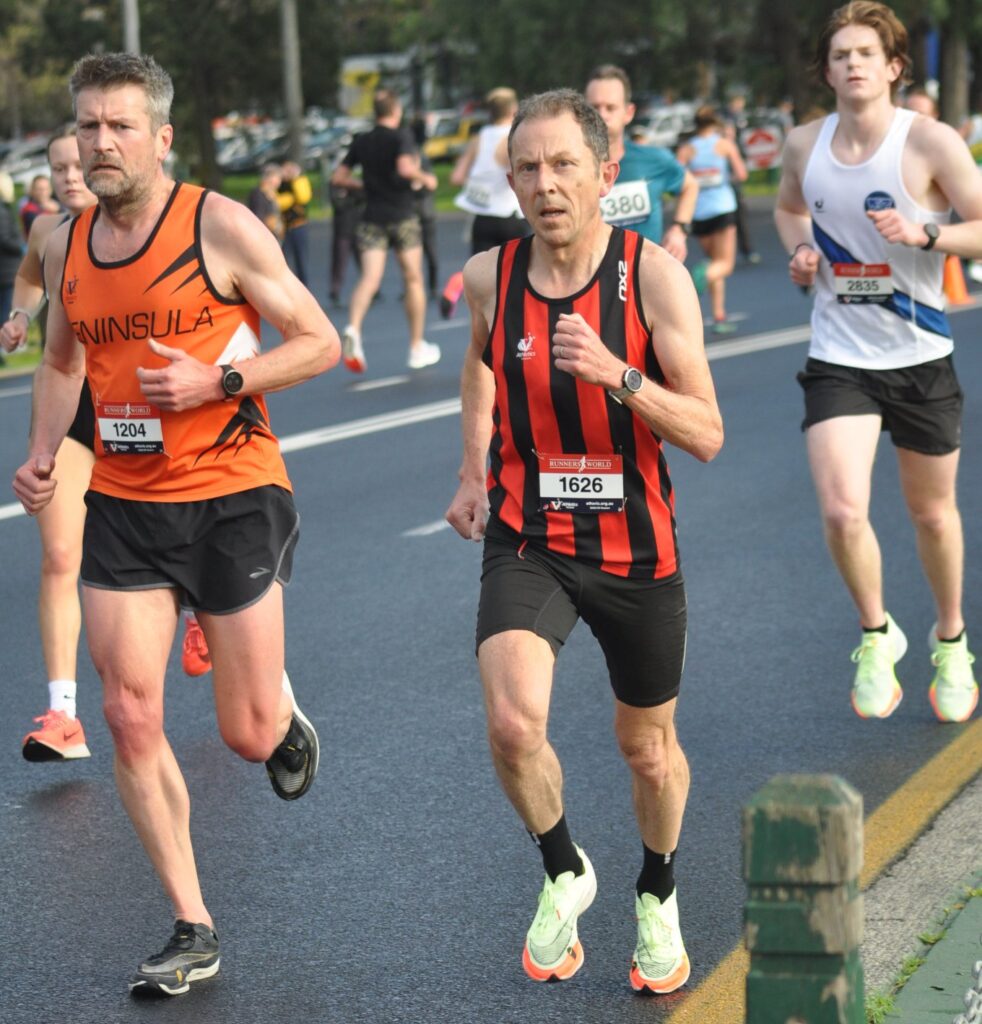 Fresh off his recent exploits in the Maccabiah Games in Israel, Alexander O'Callaghan (46:15) pipped Bob Meek (46:32) who recorded his 3rd fastest Albert Park XCR time, while strong performances from Richard Dickmann (49:12) and Christopher Worsnop (57:51) saw our M60+ team record a stirring 3rd place finish.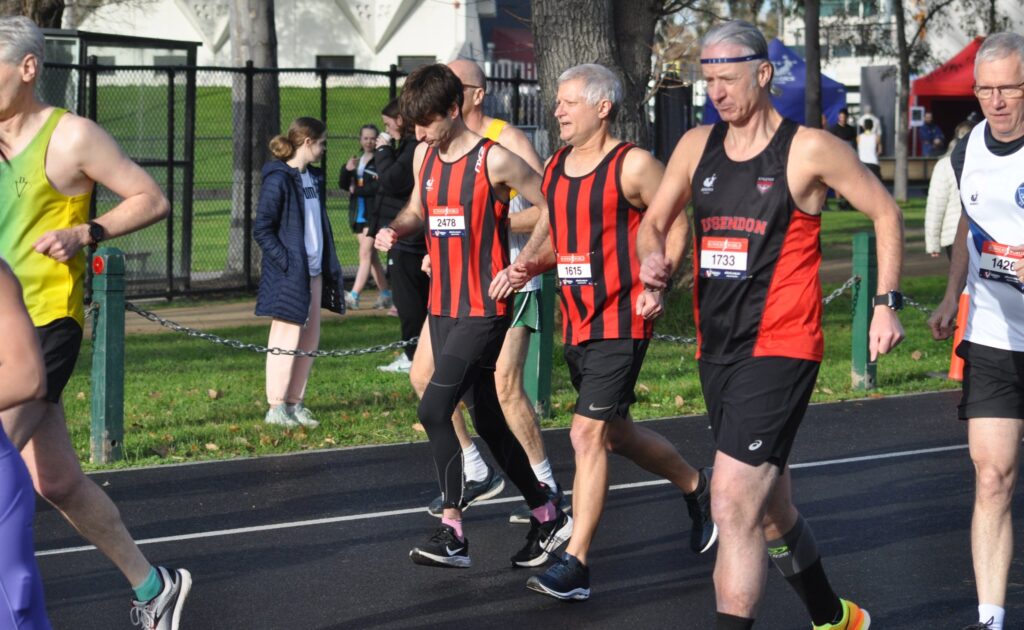 On a day full of personal bests and equally inspired running from other Old Xavs team members, our Women's Premier Division finished 8th, with the Men's Division 3 team finishing 7th, and the Old Xavs' Men's Division 4 runners helping us secure 8th. Full results are available here.
Our next race is APSOC's Alan Hooley Relay, which requires each team member to run the 3km leg twice. It will be very interesting to once again count the many ways our Old Xavs runners find to obliterate their short course bests. Please fill in the form here if you are running for OXAC!
Pablo Campillos