APSOC Brighton-By-The-Sea 9k
Saturday 30 July 2022
Bright blue and clear skies greeted competitors arriving at Green Point for Old Brighton's annual 9km race. They were also met with a howling wind, the race's start being at the most elevated and exposed part of the beach gardens, leaving runners to keep their warm layers on until the last moment before their handicap start was called.
This year's course was modified from previous years, which resulted in a longer final stretch along the soft and gluggy beach sand to the finish line. Together with the race's infamous stair climbs and declines, athlete's rhythms were sorely tested.
While somewhat down on our usual numbers, OXAC athletes still comprised almost 20% of the final field, with 11 Old Xaverians taking part. As always, our diversity shone through, with young gun Darcy Sherman running his 6th APSOC race while club President, Christopher Worsnop, turned out for his 66th since the current electronic system was installed in 2013 (otherwise its over 400!).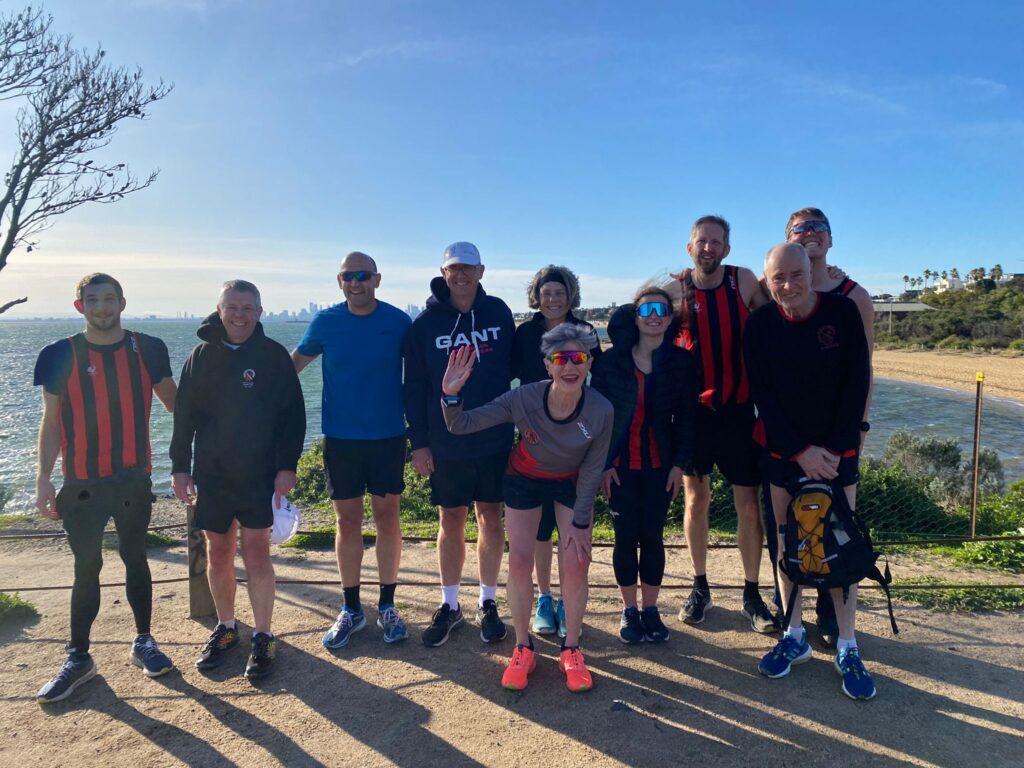 Shining most of all was one of our neuro-diverse athletes. Montana Whiteley – after taking a wrong turn last year and missing out on a finish – ran her usual strong and steady pace (44:23) to take race Handicap honours by over a minute from the second-place finisher. The Whiteley family tradition was kept solidly alive, however, with patriarch Dean missing the race turnoff into the sandy paths through the tea trees, and only realising his mistake a few kms down the lonely road before turning back to rejoin the official course.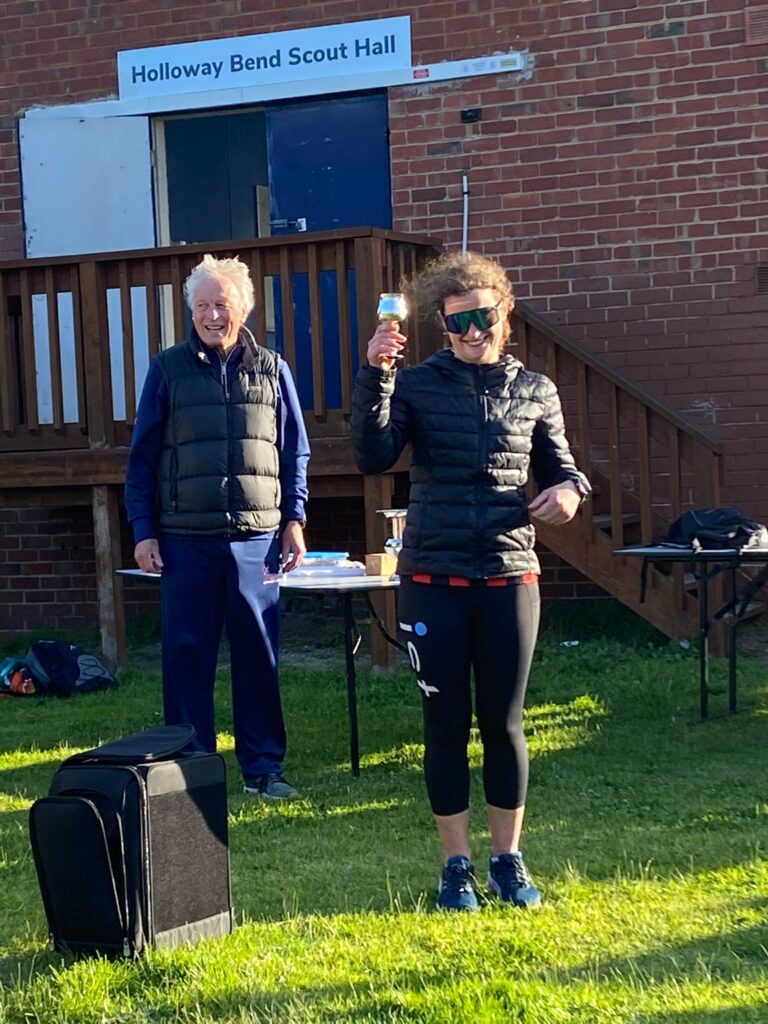 Montana's handicap win led the way for other solid red and black handicap results. President Worsnop (53:11) combined his 4th place M60 result with a 5th placed handicap finish, and the always impressive Margaret Fitzgerald excelled as the first W60+, eighth in the handicap, and her scratch time of 44:09 recording an age graded result of 81.11%. Margaret's finish also pushed Pablo Campillos (35:53, 1st M50) into ninth in the handicap league. With the event's unique teams handicap format – instead of the club's fastest runners, it is the first four handicap runners (male or female) who make the team – our Old Xavs 1 team pipped St Kevin's to win the overall Handicap cup!
It was great to see Montana's training buddies running well also, with Harry Mezger (36:16) finishing 7th in the scratch stakes, while finishing in the top half of scratch competitors as well was Carlo Manolitsas (43:44).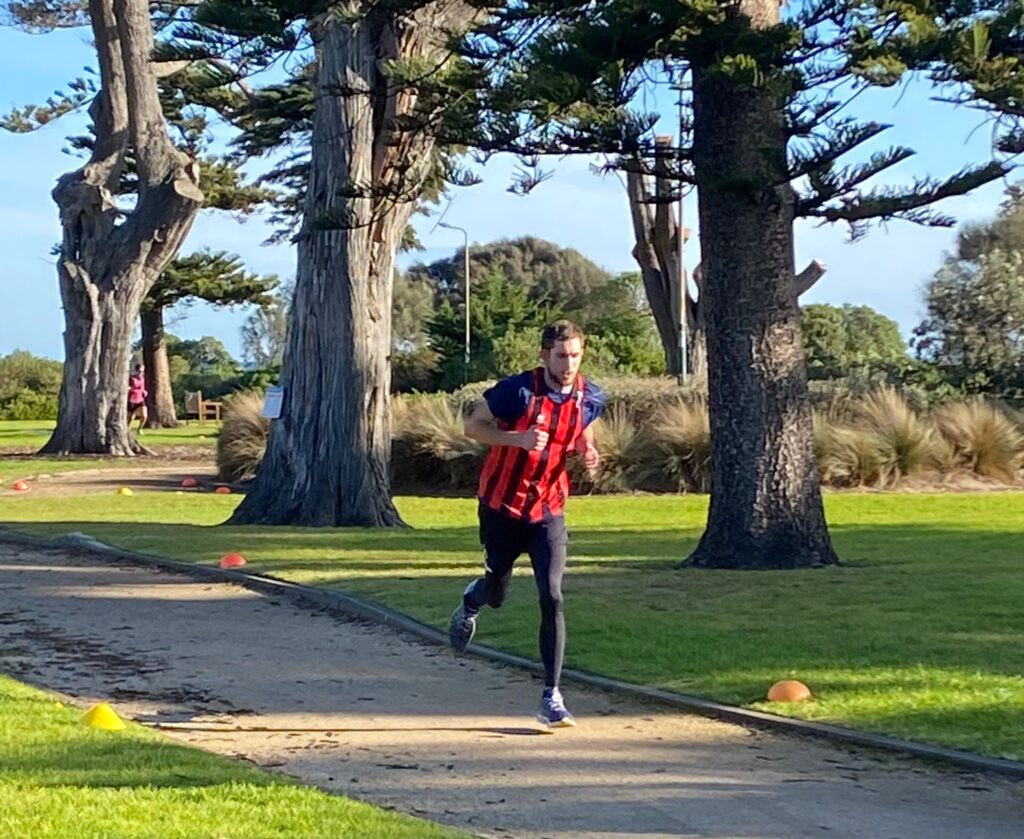 Our youngest and smallest runner on the day, Darcy Sherman (38:13), fought hard against the strong headwind, finishing an inspired third in the M23 category. Other notable results include Nik Matthews (41:26, 6th M50), the effervescent Christine Williams (52:12) coming in second W60+, and Anthony Walsh (54:31) finishing 6th M60+. The solid performances saw our second Old Xavs team of Darcy, Harry, Nik and Anthony finish as the 5th best handicap team on the day.
With the next race being AV's 10km around Albert Park, our Old Xaverians' experience of running hard into a headwind is likely to prove successful once again.
Pablo Campillos