APSOC Jamieson 5km & OXAC Annual Dinner
OXAC had a fantastic day out to open Winter, with the first race of the APSOC season – the Jamieson 5km at Scotch – followed by our Annual Dinner.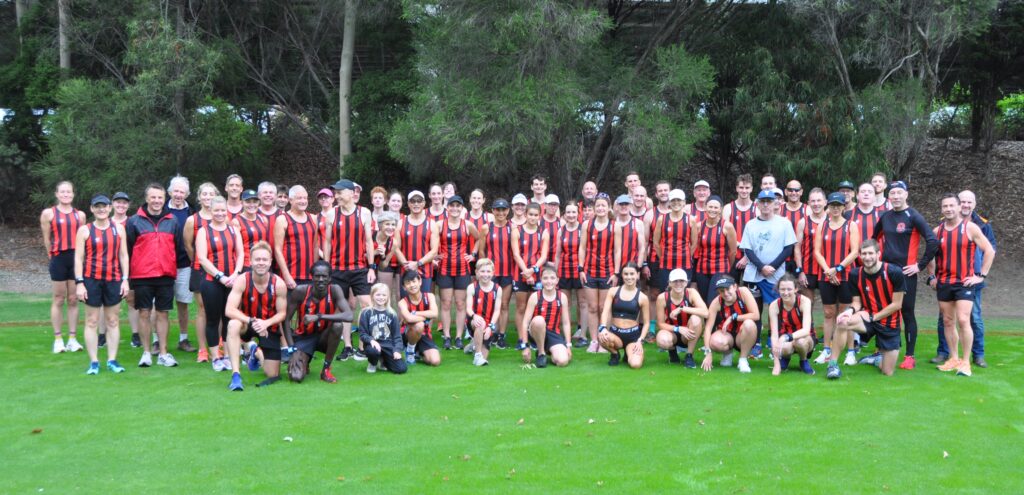 OXAC Team ready to run at Scotch
A windier and wetter than usual afternoon greeted runners at Scotch for the sealed handicap event to open the APSOC season. OXAC had more than one third of the field, with 56 out of 157 runners.
In Division One, a huge challenge from Scotch saw our first team fall just 4 points short of a win. Johnny Kuol (4th, 16:04) was our fastest, followed by Ben Haseler (6th, 16:05), Dan Gibney (9th, 16:43), Peter Chappell (12th, 17:08), Simon Holt (14th, 17:23), and Ant Meek (15th, 17:26). Simon Holt was also the first M40, whilst Alan Colman (18:53) and Bruce Davie (18:56) were the second and third M50. It was great to see some faces new to APSOC, including Liam Stocky (Captain of Cross Country at Xavier in 2022), Jensen and Cameron Scarff, and Finn Harvey. Our open teams came 2nd, 4th, 6th, and 8th in Division One, and 4th, 6th, 9th, 10th, and 13th in Division Two.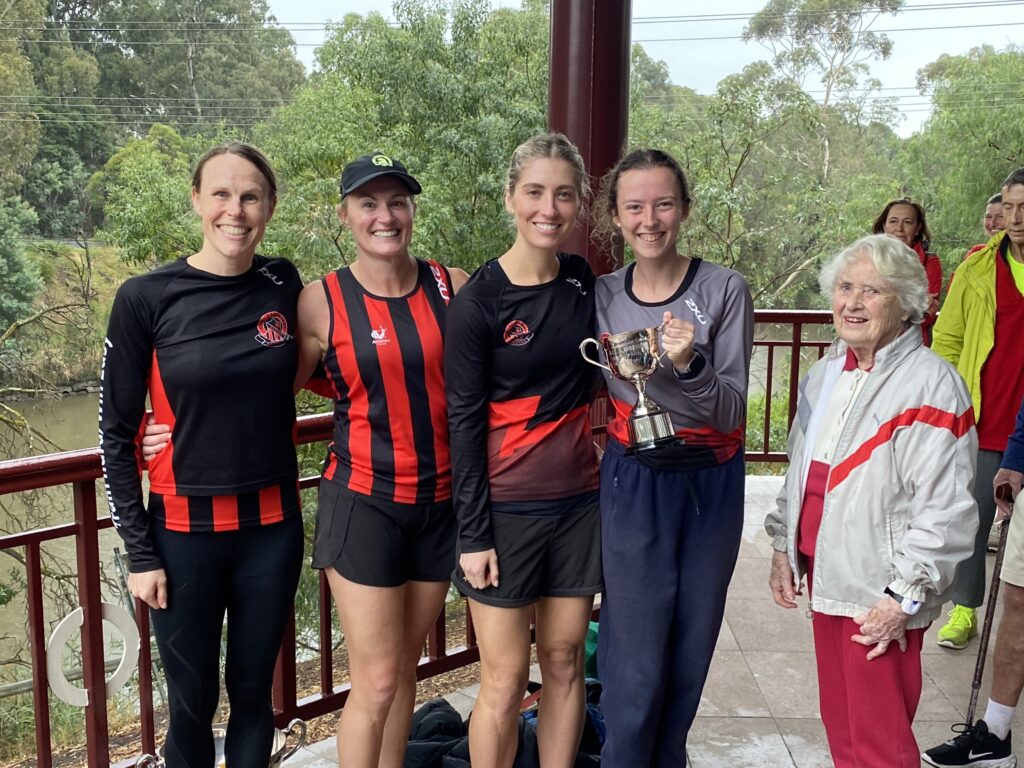 The winning women's team
The Women's teams romped home to a win to confirm their status as the ones to beat in a reigning premiership year. Annabelle Colman (3rd, 19:11), Hannah Cossins (4th, 21:25), Captain Sue Hinckfuss (6th, 21:43), and Julie Pearsons (7th, 21:49) took an emphatic victory over the next fastest team – also OX, consisting of Georgia Guiney (8th, 21:55), Georgia Powning (9th, 21:55), Di Guiney (11th, 22:26) and Beth Murphy (14th, 23:16). Annabelle Colman was our first woman, third woman overall and the first W23 in 19:11, and Georgia Guiney was second W23. Sue Hinckfuss was the first W50, Margaret Fitzgerald (24:29) was the first W60, and Christine Williams (31:20) was third W60. The women also welcomed a few new runners, with Madeline Grave, Elisse Gately, and Phillipa McIlroy competing in their first APSOC races.
In the evening, our Annual Dinner, held at Postmaster Hotel in Kew once more, was a huge success. A toast from the President, Christopher Worsnop, opened the night of guest speeches, awards, and interviews. We heard from Darren Templeton about the upcoming Run The Tan and the excellent field planned, including OXAC's Matthew Clarke who has been in hot form and may be set to challenge his PB of 10:45 set in 2018!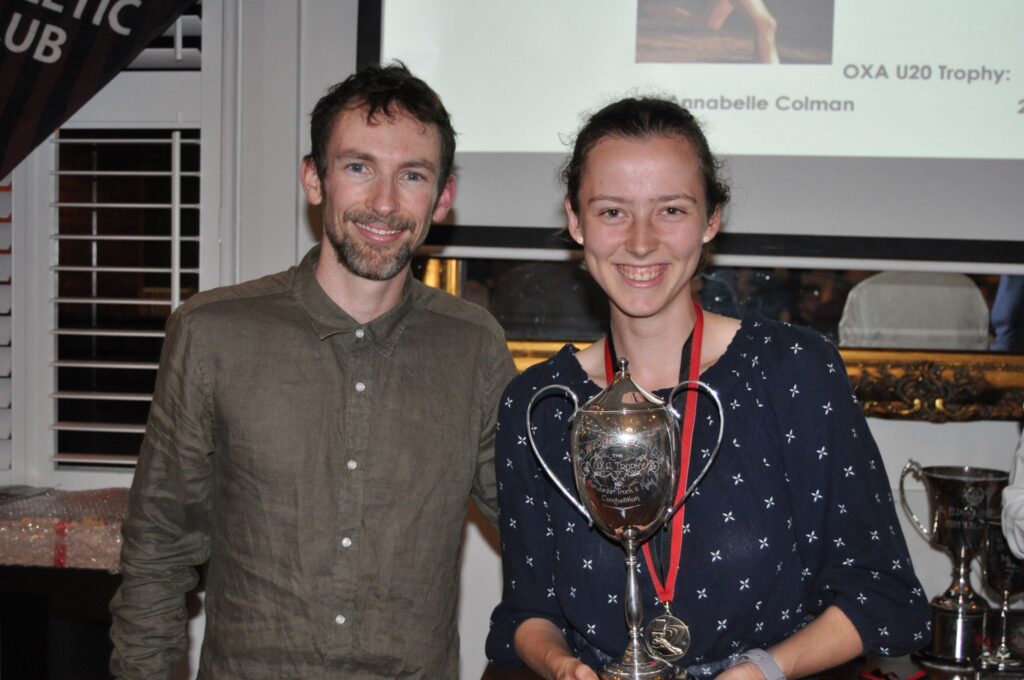 Dave with Annabelle Colman and one of her many trophies
Overall, Pablo Campillos was the well-deserving winner of the Chris Van Assche trophy for persistence; Annabelle Colman won the Eldon Hogan trophy for best single performance, appropriately presented to her by Dave McNeill who won it in 2022; and Shannon Cole won the John Cooke Trophy for best club person, given all of her efforts with the De Castella Run.
Dave McNeill was our superb guest speaker on the evening, sharing his wisdom from his career, highs and lows of the journey, training and racing tips, and a preview of what's to come ahead, in a lively interview with OXAC's own Anthony Meek. A raffle draw concluded what was an excellent night.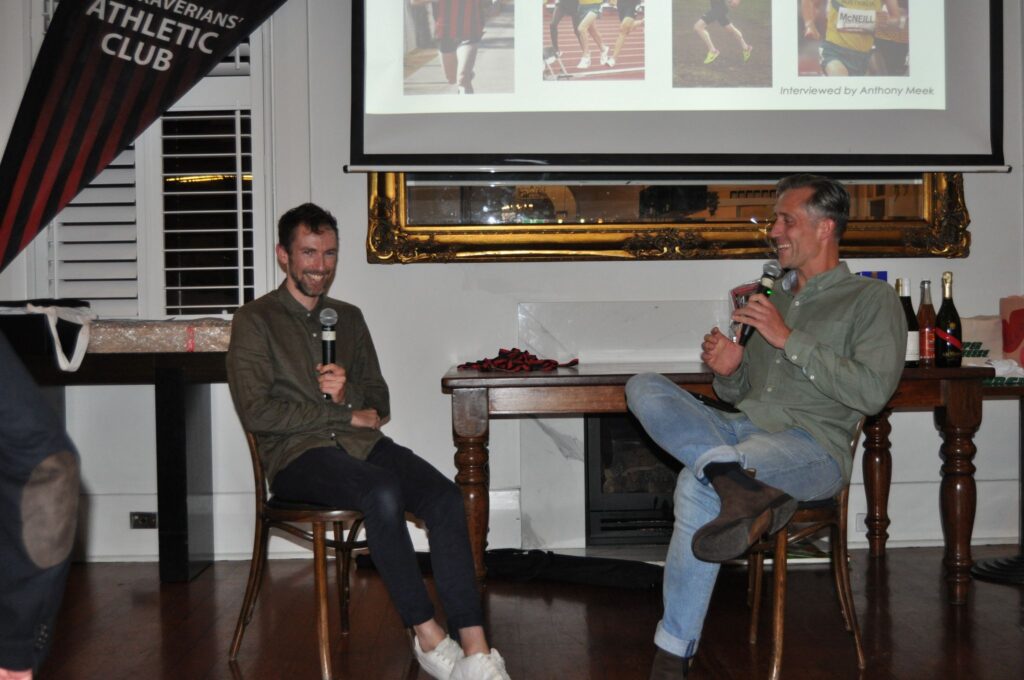 Guest speaker Dave McNeill interviewed by Ant Meek
Thanks must go to Bob Meek for organising the evening, Dave McNeill and Ant Meek for the fantastic interview, Anthony de Castella for the AV presentation, and Christopher Worsnop for co-ordinating all of the above. We are also very grateful to Jeremy Spradbery and Lucy Permazel from Supercheese, Margaret Fitzgerald and Richard Dickmann, Jess Wilson MP, Drew Cole, Liz Gosper, Hannah Cossins, Di Guiney, Bob Meek, Simon Holt, and Michelle Worsnop for donating raffle prizes.
We now look forward to the start of the AV season on the weekend, with the AV Jells Park Relays on Saturday afternoon.
Aidan Jackson
OXAC Men's Captain