AV Jells Park Relays and OXAC Annual Dinner
Saturday 7 May
It was a big day out for OXAC on Saturday 7 May with the opening of the AV season during the day, followed by the Club's Annual Dinner in the evening.
The day brought wild and wintry conditions out at Jells Park for the first AV race of the season, and one of the few AV races in the previous 3 years. OXAC had 4 teams: D3 and D4 in the Men's, and Premier and D5 in the Women's.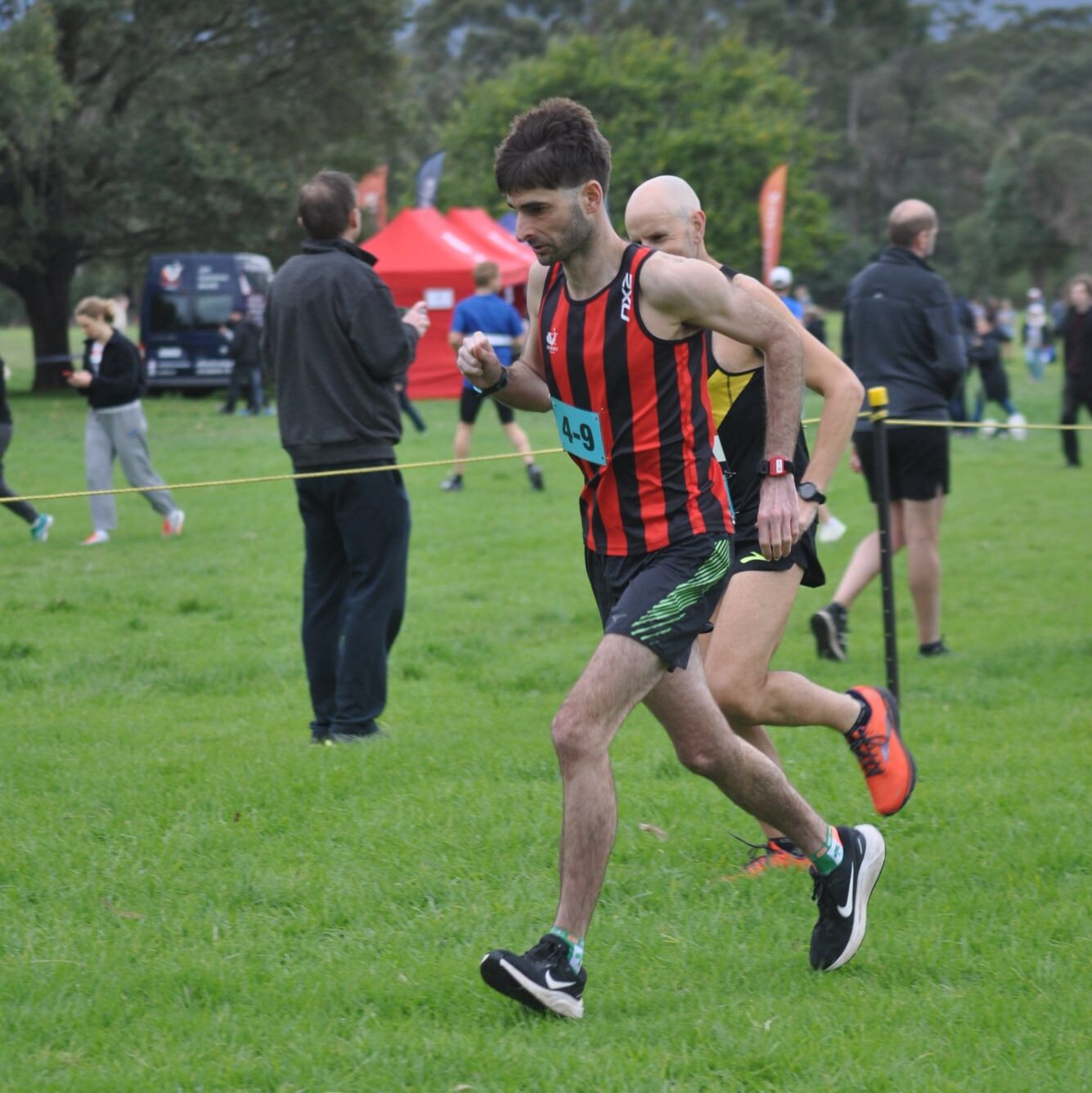 The Men's teams fought hard in the contest, with the Division 3 team composed of Aidan Jackson (20:56), Aidan Biggar (21:35), Jonah Gannon (26:12), Lachlan Gordon (24:37), and Simon Bull (26:47) all battling the conditions which worsened as the day went on, finishing 10th of 15 teams. Division 4 runners Alex O'Callaghan (29:46), David Martini (27:14), Bob Meek (29:53), Alan Colman (25:14), and Club President Christopher Worsnop (35:26) also battled the hills of the 2 x 3km course.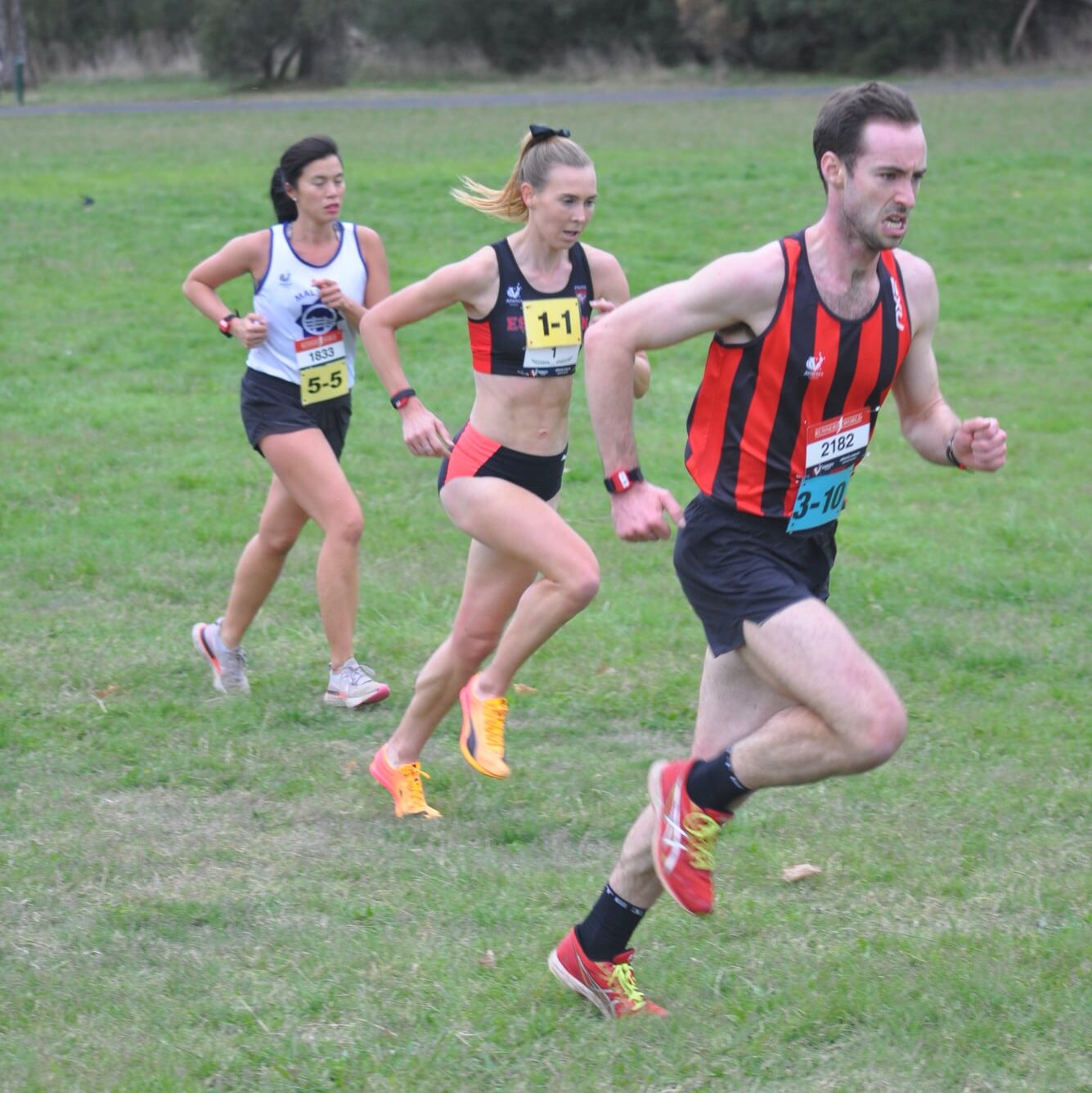 Our Premier Women's team finished 8th in the top Division, running against some of the best female athletes in the state. This team was a family affair, being composed of Daisy Hinckfuss (38:22), Women's Captain Sue Hinckfuss (26:57), Di Guiney (27:24), Georgia Guiney (30:11), and Laura Robson (28:50). Margaret Cass (36:08), Kim Drever (32:22), and Mary Grutzner (34:12) made up our Division 5 team, coming 9th out of 12 teams. Full results are available here.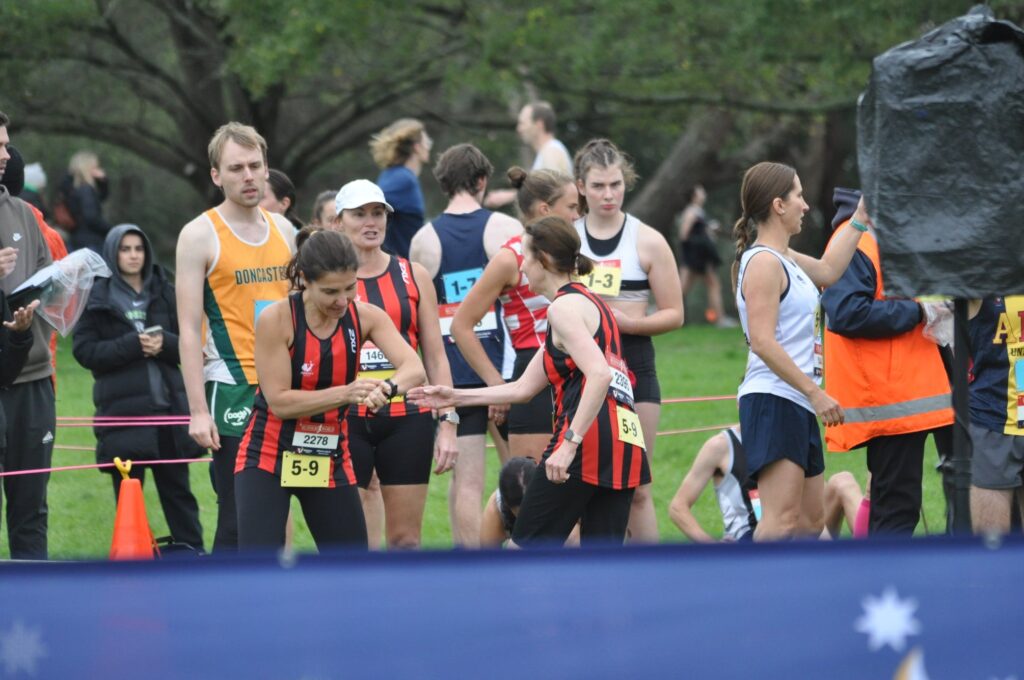 In the evening, a much warmer affair was had at the Postmaster Hotel in Kew, with our Annual Club Dinner. This included a toast and brief history lesson from the Club President, a tribute to our Olympians Dave McNeill and Matthew Clarke, a fantastic raffle thanks to many of our generous donors, and a presentation of a cheque to OXAC from OXAC's Darren Templeton on behalf of Run The Tan. Guest speaker for the evening was Olympic marathoner Ellie Pashley who shared her thoughts on training, racing, and motivation, and engaged in a long Q&A session with the audience. Ellie also spoke about balancing pregnancy with running, her tactics in the marathon, and importantly, whether she rounds out to time or distance on Strava.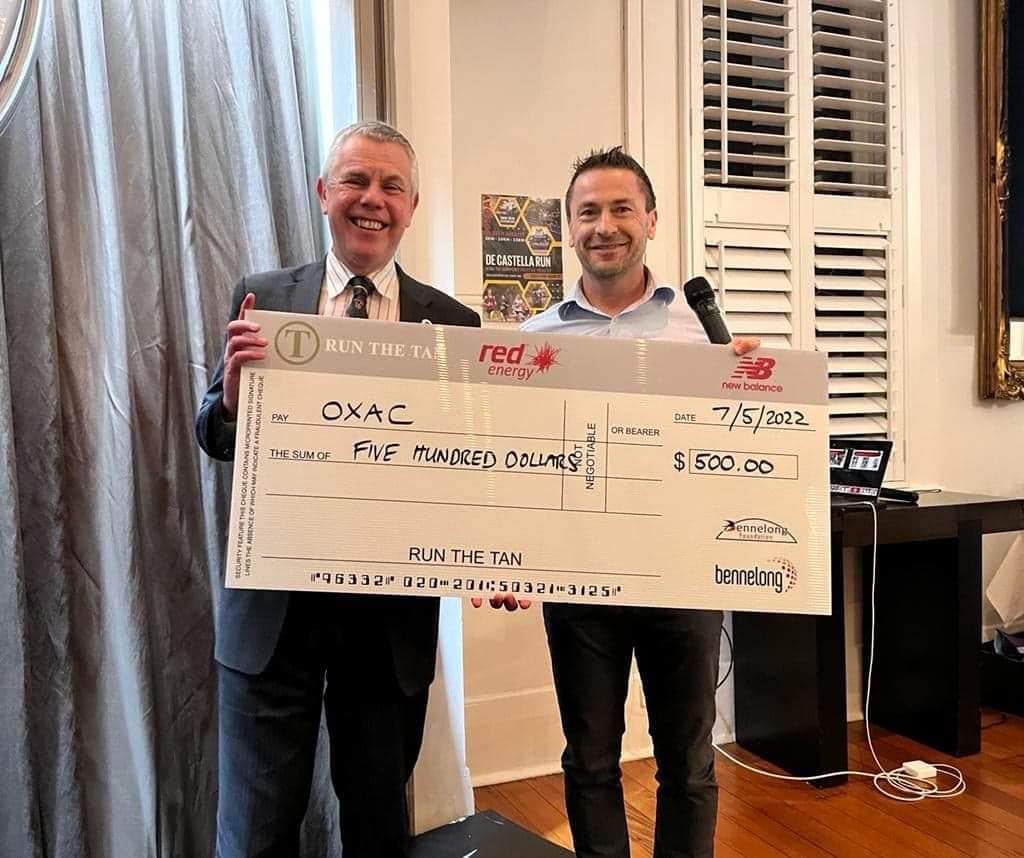 The evening focused on our Annual Awards for both the 2021 Winter and 2021/22 Summer seasons. Full winners are listed here:
JOHN COOKE TROPHY for significant contribution to the club: Hannah Cossins
ELDON HOGAN TROPHY for best individual athlete performance: David McNeill
STUART METHVEN for best summer athlete: Neve O'Callaghan
MEN'S SUMMER CHAMPIONS: Nelson Gray, Will Lovett, Carlo Manolitsas
WOMEN'S SUMMER CHAMPIONS: Annabelle Colman, Amelie Lague
SIR LEWIS BURNE MEDALS (Summer): Erin Garbler, Cameron Marshall, Georgia Powning, Clara Campillos
OXA TROPHY: Joshua Augustinus
SUMMER 60+ CHAMPION: Mark Hipworth
CHRIS VAN ASSCHE TROPHY; Alex O'Callaghan
TUTTON TROPHY: Ben Hasseler, Aidan Jackson, Aidan Biggar
DUPUCHE TROPHY: Charlotte Hoskins, Margaret Fitzgerald, Hannah Cossins
WINTER 50+ CHAMPION: Pablo Campillos
WINTER JUNIORS CHAMPIONS: Harry Cole, Clara Campillos, Annabelle Colman
SIR LEWIS BURNE MEDALS (Winter): Harry Mezger, Bob Meek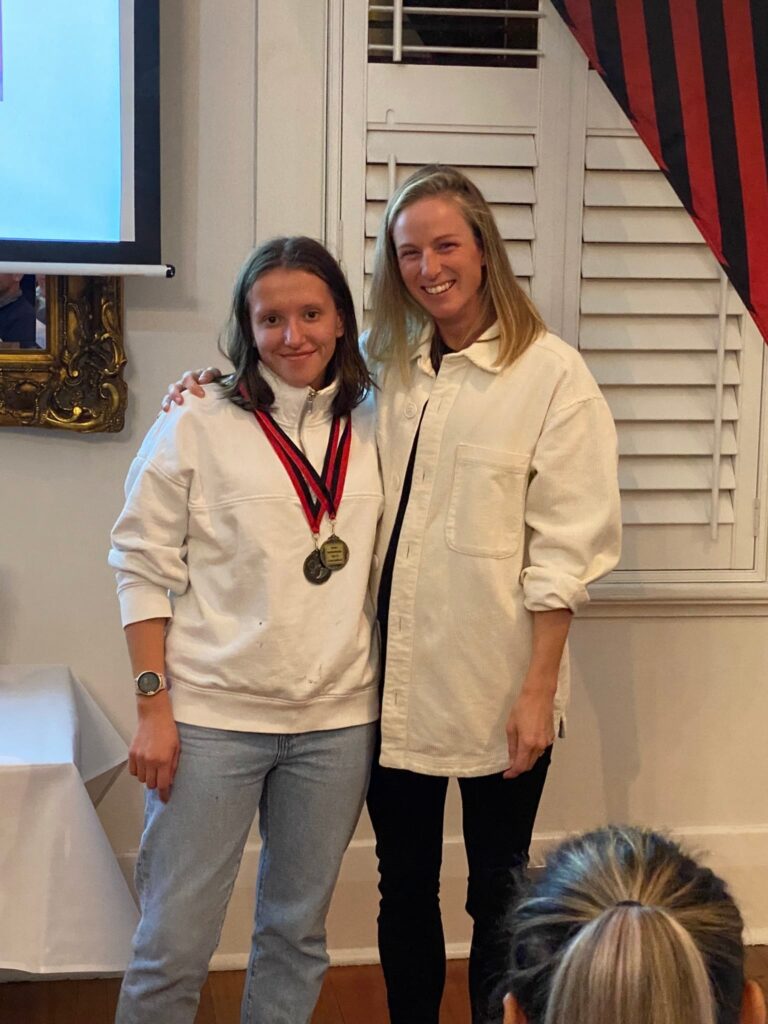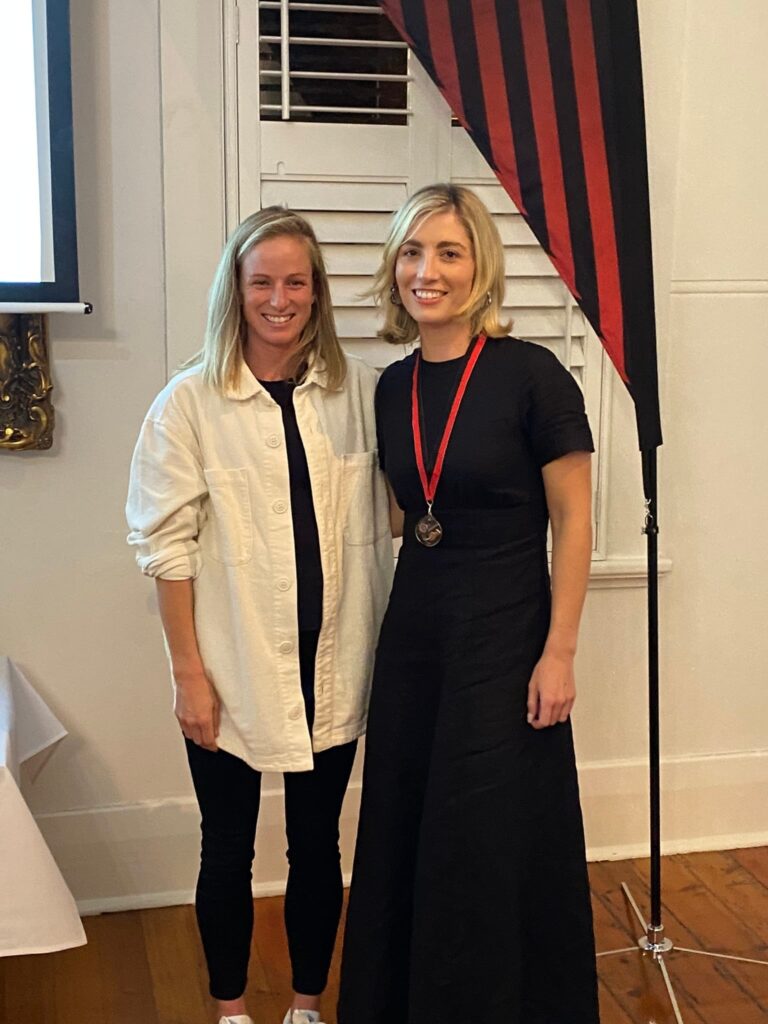 A big few weeks lie ahead for OXAC with the APSOC Orchard 10km Handicap at Albert Park this Saturday 14 May, followed by the second premiership race of the season in the massive Dyson Relay at the Tan on Saturday 21 May. Stay tuned for race and teams information!
Aidan Jackson
OXAC Men's Captain